ABOUT ME!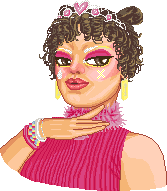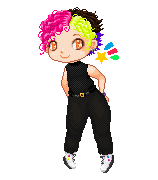 Name: Flávia
Current nickname/trial name: Lemon
Birthdate: 05/July/1993
Zodiac: Cancer sun, Aquarius moon, Sagittarius rising
Hobbies/skills: Dancing, writing, singing, drawing (oil pastels, watercolors, digital), makeup, cartomancy, audio and video editing
Current interests: Japanese idols, Japanese pro wrestling, Genshin Impact, pixel art, dieting and working out
10 things I like: Horror media, fruits, rainy weather, fine glitter, animation, curry rice, sharks, sparkly wine, retro portable devices like Bemani Pocket and discmans

BADGES, BLINKIES, AND STAMPS!
The ones I made have hovery text saying "by me!"; the rest are all adopted!